Whereas our main business is project oriented, that is, bidding to a request for proposals to audit websites for accessibility, we offer a simpler, less expensive way to ease your website into accessibility.
Most of the web accessibility services firms out there will do a fine job, but their focus is project based. They are geared to address the accessibility of your entire online presence, whereas we're happy to work a task as quick as a single web page. Their approach is ideal for large, complex websites, but if you want a quick, inexpensive way to start, perhaps just the home page, then Access2online is the answer.
Whereas other firms need to put together a large proposal typically based on upwards of $200/hr, our task-based approach is dirt simple: $49/hr with you going in knowing the exact number of hours you authorize for each and every task. With Access2online, you follow these simple steps: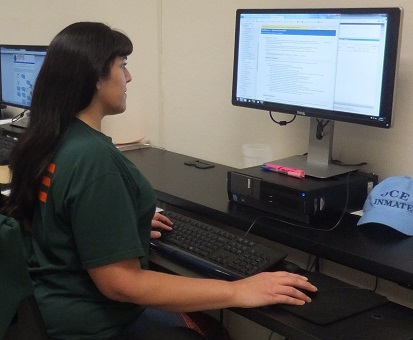 Open a free account.
When you're ready to propose your first task, add some spending money to your account with a credit card, echeck, Paypal payment, paper check, or purchase order.
Use an online form to propose a task to do an accessibility analysis & report, or PDF document repair, referring to the URL of your web page(s).
A human Coordinator looks over your proposed task and accepts it for a specified due date and a given number of authorized hours. If that is 4 hours, for example, you know going in that your exposure is $196.
If you approve the task description, your total dollar exposure, and the task's due date, only then do you authorize the task and Access2online gets to work.
Access2online's Coordinator uses our eTaskBoard software to match your task to our best-fit analyst and she gets to work.
We deliver two main types of audit reports. A spreadsheet with a worksheet for each page audited that lists on its rows each failure condition tested, between 60 and 81 depending on the standard used. Each such row refers to the exact section violated, examples from the page audited, and remediation recommendations. The spreadsheet comes with controls, for example, to show only the violations up to level AA Rating of the WCAG 2.1 standard. We won't share a client's violation spreadsheet, but here's a fictitious sample audit report.
The second part of our report is a Summary of the Webmaster's Accessibility Remediations (SWAR), collecting all the remediation suggestions from the worksheets into a narrative to-do list in MS Word format matched to the workflow of a web designer in maintenance mode, for example, the first section lists remediations common to all pages where the fix may be a simple setting in the templates of a CMS. Folks in a hurry often just do the remediations in the SWAR, whereas those in training mode use the spreadsheet to understand practical accessibility. Here's a fictitious sample of a SWAR.
The Access2online Coordinator reviews the analyst's report for quality, accuracy, and completeness.
You receive an email notice that your task is done. Going to the task's online record, you find attached your accessibility report or updated PDF documents, along with any task notes.
Only at this point is your account charged for the amount you authorized for the completed task.
Satisfaction Guarantee
Let's say you get to the end of your first task and for whatever reason you don't like the recommendation report we provided. All you need do at that point is contact the Access2online Coordinator and ask for a refund. We will immediately refund your entire purchase price of that first task. We are this sure you will find Access2online the right answer to your website's accessibility needs.
Many customers check out Access2online with a small task, perhaps just a few web pages, and then review the quality and usefulness of our work products to decide if they would like to propose additional tasks. Sometimes they use an itemized Access2online report to guide their in-house webmaster to find and fix similar problems throughout their website.
If we complete an analysis of your entire website and you implement all the changes in our recommendation report, you will have the right to affix the Access2online Compliance Certificate with the corresponding Accessibility Rating.